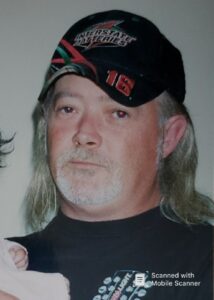 Donald W. "Buck" Rothwell
October 22, 2020 - October 12, 2020
Donald W. "Buck" Rothwell, age 57, of Lynx, Ohio, died Monday October 12, 2020 at his sister's residence in Chillicothe. He was born October 22, 1962 in West Union.  He was preceded in death by parents, Rodney and Mary Thatcher Rothwell and one grandson, Braxton Trey Rothwell.

Buck leaves behind his wife, Angie Rothwell of Lynx; two sons: Darrin Rothwell (Marlena "Marty" Spencer) of West Union and Daniel Rothwell (Denise Curless) of Lynx; one daughter, Abby Rothwell of Lynx; three step sons: Dakota Grooms of West Union, Derick Evans of West union and Donnie Evans of Lynx; one sister Debbie Kepp (Steve) of Chillicothe; two nieces: Stephanie Aspel (Donnie) of Waverly and  Jody Hayes (Marty) of Circleville; eight grandchildren: Tyler, Ryan, Dylan, Landon, Nathan, Brooklyn, DJ and Blake and two loved pets: a border collie, Akita and a chihuahua, Russell Davenport.

He was a was a former employee of the Adams County Highway Garage.  Over the years he was known for playing guitar and bass with his dad.  He enjoyed working on old cars, going antique shopping with his sister and hanging out with his many friends.

In Lieu of flowers, memorial donations can be made to:

Lafferty Funeral Home Incorporated, P.O. Box 5, West Union, Ohio 45693.

The public visitation is 11 – 1 PM Friday, October 16, 2020 at Lafferty Funeral Home in West Union.

The public Graveside funeral is 2 PM Friday, October 16, 2020 at Mt. Armenia Cemetery, Mahogany Road in Lynx.  Pastor Pete Francis will officiate.

Lafferty Funeral Home Incorporated of West Union is serving the family.
Condolences
sandra perry - Sep 28, 2022
really miss singing with you Buck we had alot of fun and made alot of good music together.. i miss you REST IN PARADISE MY FRIEND.. i will see you again one day
Darrin - Sep 19, 2022
I love you dad can't believe it's been 2 years now love miss you so much
dillpickle - Nov 30, 2021
thank you for not forgetting my papal buck everybody hes in hevean i know that but i still miss him very much he deserved more life i feel like but i guess theres people that pass away younger he was a hard working man who loved his family very much from the bottom of my heart thank you for thinking about him he looks down from hevean on all of you he had nothing but love out for people
Diane Grooms - Oct 14, 2020
Buck was a long time friend and have listed to him play his music and fixing around on car's and just knowing him all my life...Buck had a amazing family that loved him dearly...I will remember buck as I can when he was feeling good..my heart goes out to each and every one of his family members....I will be there with you all in my heart ...peace at last buck....love too you all
john shelton - Oct 14, 2020
i grew up around buck he was like an uncle to me he was a great man
Mary Mason (Poo) - Oct 14, 2020
So sorry for your lose. I loved hanging out with Buck. Always happy to see you no matter where you ran into him. He has a kind heart loved his family he will be missed greatly.
Rhonda Roberts - Oct 14, 2020
I only had one year with Buck but in that short time we became good friends. Buck was a good man. He loved his family more then anything. I will miss him so much! Prayers for the family!
Deena and Jt Collins - Oct 14, 2020
R.I.P Buck I knew you through my family for a very long time you were a good ol guy hope your up there resting and relaxing now buddy , You brought so much joy to everyone around you. You will be missed by many ❤️
Tammie Blythe - Oct 14, 2020
Buck I met you through Fred. Now you, Fred, and Debbie are all up there dancing on the streets of gold. Ple tell them hi for me. Your family and friends are in my thoughts and prayers. Fly high my friend.
Joy Moore - Oct 14, 2020
So sorry spell check got it wrong, I did not mean to write that first word in my condolences it should have been Buck, so so sorry to everyone.
Joy Moore - Oct 14, 2020
F*** you're in a better place now walking with Angels flying high, No more suffering and pain, God bless you and your family 💞
J.M. and Lisa Tolle - Oct 14, 2020
We played alot of Haggard tunes together, you'll be missed, rest in peace brother.
Barry Malone - Oct 14, 2020
I have just lost a very good friend. Buck Rothwell you are the best friend a man could ever have. May God Bless your soul and just know that we will meet up again . So just keep that guitar tuned up and can still remember you playing. I know Jesus just had to have you closer May God be with your family and friends at this time We all love you Until we meet again
Mary jean Williams - Oct 14, 2020
I'm so sorry my heart goes out to you Debbie and his family I loved buckle he was a good cousin
Deborah Reed Snyder - Oct 14, 2020
So sorry for your loss. Prayers
Ted & Kathy Grooms - Oct 14, 2020
"there were seven Spanish angels at the alter of the Son"...…………………….it was good to know you, Meadowlark
deanna and terry grooms - Oct 13, 2020
Sorry for your loss