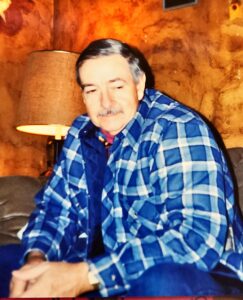 Tony Young
November 28, 1938 - November 20, 2021
Donald O. Young, 82, of West Union, Ohio passed away November 20, 2021 at Hospice of Hope in Maysville, Kentucky.  He was born November 28, 1938 in Adams County, the son of the late Ora and Aura (Siberal) Young. Besides his parents, he is preceded by six brothers: Eugene Young, Frank Young, Pete Young, Joe Young, Wayne Young, Larue Young and two sisters: Hazel Plumer and Edith Robuck.

Don is survived by wife of 55 years, Betty R. Young of West Union; two sons: Tony D. (A.J.) Young of Manchester and Justin "Jay" D. Young of West Union; seven grandchildren; five great grandchildren; two bonus grandchildren; three bonus great grandchildren and one sister, Blanche Grooms.

Don was a volunteer firefighter for West Union Fire Department for 18 years. For 22 years he worked as a caretaker for several cemeteries in Tiffin Township.  He loved his family and he will be missed dearly.

Mr. Young will be cremated.  Per Don's wishes, there will be no services at this time.

Lafferty Funeral Home Incorporated is serving the family.
Condolences
Stephanie Stephenson king - Nov 26, 2021
Jay , if there's any thing you need let me know. So sorry for your loss
Andrea Bowen - Nov 24, 2021
It broke my heart to hear of his passing. Don was a good man and I have the upmost respect for him. My children could not have ask for a better grandfather. Prayers to all the family.
Wanda Baldwin - Nov 24, 2021
My sincere sympathy to the family!
Ron & Nedra Vogler - Nov 23, 2021
Offering our deepest sympathy to the family.
Ronnie & Jeanne (King) Grooms - Nov 23, 2021
We're so sorry for your loss. Sending prayers.
Anthony Robuck - Nov 22, 2021
I have fond memories of Donald, I would refer to him as my Onery Uncle who always made me laugh 😅