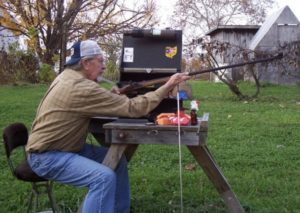 Donald E. Brown
April 1, 1936 - January 20, 2019
Donald E. Brown, 82, of Cherry Fork, Ohio passed away on Sunday, January 20, 2019. He was born April 1, 1936 in Cincinnati, Ohio to the late Earl and Alverna (Beitzel) Brown. Besides his parents, he was preceded in death by his brother, Robert Lee Brown.

Donald is survived by his wife, Sharon (Wardlow) Brown of Cherry Fork; five children: Jacinda Abbott and husband Shane of West Union, Ohio, Donna Mattingly and husband Jesse of Milford, Ohio, Julie Liggett and Scott Liggett of Fayetteville, Ohio, and Donald Brown Ashley of Alaska. He is also survived by his sister, Erlene Ashley of North Carolina, 8 grandchildren: Wyatt Waller, Walker Lee Brown, Ruth Ann Thornberry, Billy Thornberry, Heather Linville, Jessica Mattingly, Sonya Mattingly and Jesse Mattingly; 13 great grandchildren, and 3 great great grandchildren.

Donald retired after more than 20 years of employment at Ford Motor Company. He was a member of the Miami Black Powder and Rifle Association, and the National Rifle Association. He was a veteran of the U.S. Coast Guard.

Donald's family would like to give special thanks to the staff of Adams County Manor, and to Heartland Hospice. Memorial donations may be made to Heartland Hospice, P.O. Box 400, Lucasville, Ohio 45648-0400 and/or Alzheimer's Association, Greater Cincinnati  Chapter, 644 Linn Street Suite 1026, Cincinnati, Ohio 45203.

The memorial service is at 2 pm on Saturday, January 26, 20119 at Lafferty Funeral Home in West Union with Chaplain Larry Brown officiating. The cremains will be buried at the convenience of the family in the Cherry Fork Cemetery in Cherry Fork.
Condolences
Phillip and Vicki Rhonemus - Jan 27, 2019
Dear Brown Family, Keeping all of you in our thoughts and prayers at this time. Sincerely,
Sarah Banzhaf - Jan 26, 2019
Sharon and Jacinda-so sorry to hear about Don. You are in my thoughts & prayers that you will have comfort & peace.
Sandy Grooms - Jan 25, 2019
So sorry for the loss of your husband, father, grandfather, brother, and friend. He was a good man. Love and prayers to all.
Carole Kattine - Jan 24, 2019
My deepest sympathy----
Sarah - Jan 23, 2019
So sorry for you loss my friend. Prayers for Gods comfort during this time.
Tammy Moore Shelton - Jan 23, 2019
Sharon & Cindy, I had no idea this was going on I am so sorry for your loss Don will be missed by many I'm sure. He was a Great ,loving family guy praying for your family.
Susie Gast - Jan 23, 2019
Sharon, so sorry to hear. You and your family are in my thoughts and prayers.
Anita Evans - Jan 22, 2019
Sharon, I had no idea. I am so sorry for your family's loss. Will be praying for everyone.
Erica - Jan 22, 2019
Sharron, I'm so sorry for your loss. You will all be in my thoughts and prayers.
Carl &Kim Heintz - Jan 22, 2019
You are in our thoughts and prayers
joyce young - Jan 22, 2019
prayers, so sorry Sharon and family