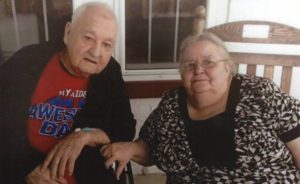 Diana (Adkins) Lewis
January 15, 1946 - October 18, 2018
Diana (Adkins) Lewis, 72, of Lynx, Ohio passed away Thursday, October 18, 2018 at Eagle Creek Nursing Center in West Union, Ohio. She was born January 15, 1946 in Portsmouth, Ohio. She was preceded in death by her parents, Everett and Gracie (Maddix) Adkins; husband, Donald Lewis, Sr. and son, Everett Lewis.

Diana is survived by three daughters: Brenda (Gary) Gilbert of Hillsboro, Ohio, Pam Morris of Brazil, Indiana, and Meriume (Charlie) Littleton of Lynx; three sons: Donald (Emily) Lewis, Jr. of Peebles, Perry (Debbie) Lewis of Lynx, and Joe Lewis of Lynx; two sisters, Joan Scott of Wheelersburg, Ohio and Vicky Adkins of Highland Bend, Ohio; 25 grandchildren; 28 great grandchildren, and several nieces and nephews.

Diana was a member of the Apostolic Deliverance Tabernacle near Peebles. She raised seven children before going to work for ten years as a nurse aide.

Visitation is from 12 until 2 pm on Sunday, October 21, 2018 at Lafferty Funeral Home in West Union. The funeral service is at 2 pm with Pastor Donald Lewis, Jr. officiating. Burial will be at Puntenney Cemetery in Green Township in Adams County.
Condolences
Julie Burris - Oct 21, 2018
Donnie and I are thinking of you in this sad time so Sorry prayers for all🙏🙏🙏
Elizabeth Lewis & Jasmine Lehr - Oct 20, 2018
So sorry for your lost Aunt Diane was an awesome person friend I wish I could have spent more time with her...may God guide you all and be with you in this time of greeving God bless each and every one you all will be in my prayers
Debby Lindstrom - Oct 19, 2018
Perry, Debbie and family.. my deepest condolences... in my thoughts at this terrible time
Amanda - Oct 19, 2018
My deepest condolences to the family.
Kenny and Sandy Grooms - Oct 19, 2018
So sorry for the loss of your mother. She was always a very nice lady. Prayers to you all