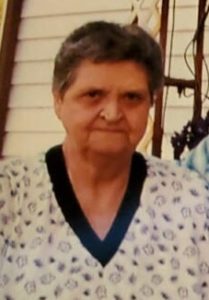 Dena K. Graham
February 20, 1942 - December 16, 2019
Dena K. Graham, age 77, of Peebles, Ohio died Monday, December 16, 2019 at Adams County Reginal Medical Center in Seaman.  She was born February 20, 1942 in Clinton County.  She was preceded in death by her parents, William Charles Crothers, Rosabella (Johnson) Crothers, husband, Larry L Graham, son, Michael David (Mick) Graham and sister, Linda Arrington.

Dena is survived by daughter, Tami Graham of Peebles; three sisters: Patricia Lewis of Jeffersonville, Phyllis Austin of Peebles, Lana (Eddie) Smart of Martinsville; two brothers: Bob (Martha) Crothers of Peebles and Dallas Crothers of Dayton; brother-in-law Jim Arrington of Wilmington, and several nieces and nephews.

The visitation is Friday, December 20, 2019 from 12 pm until 2 pm at Union Hill Church near Peebles.

The funeral service is Friday, December 20, 2019 2 pm at Union Hill Church.

The interment is Friday at Evergreen Cemetery, 3834 Steam Furnace Road, Peebles.   Pastor Phil Fulton will officiate.

Memorial donations may be made to Adams County Medical Foundation,

Woman's Health Fund, 230 Medical Center Drive, Seaman, Ohio 45679.

Lafferty Funeral Home, Incorporated in West Union, Ohio is serving the family.
Condolences
Bev McFarland - Dec 18, 2019
Love you Tami. Your Mom is with Larry and Mick now. She sure was a beautiful Lady. I will be praying for the family.
Bonnie Pierce - Dec 17, 2019
So sorry for your loss prayers