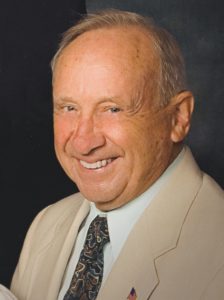 Charles S Rickey, Lieutenant Commander, USNR (Retired)
February 14, 1928 - December 15, 2017
Charles S Rickey, 89, of Vero Beach Florida, passed away on Friday, December 15th at VNA Hospice House, Vero Beach. He was born to the late Lester and Edna Swearingen Rickey on February 14, 1928 in Adams County, Ohio. Charles graduated in 1945 from Decatur High School and attended the University of Cincinnati. In 1948 he enlisted in the Navy's Aviation Cadet program at Pensacola, Florida, and received his commission in the U.S. Navy and designation as a Naval Aviator in May 1950. He flew the P-2V Neptune aircraft with Patrol Squadron 22 (VP-22) based in Hawaii and deployed three times to Okinawa. Charles flew combat missions during the Korean Conflict and was awarded 2 Air Medals. He returned to Pensacola as a flight instructor following his assignment with VP-22. Other tours included Washington, DC, and as the Air Intelligence Officer onboard USS Midway (CV-41).
He married the former Virginia Ann Ross on July 3, 1954 in her hometown of Ripley. Living in several locations during his Navy career, Charles and Ginny settled in Aurora, Colorado, following his retirement from the Navy in 1968 as a Lieutenant Commander. He then began a career as a Civil Engineer and worked for the City of Thornton, Colorado, the Ken-Caryl Ranch development and for several consulting engineering firms in Denver. In 1992 he and Ginny retired to Vero Beach, Florida. They shared almost 61 years together with Ginny passing away in February 2015.
Charles was an American Legion member as well as a member of the Military Officers Association of America. He was also a charter member of the The Old Tailhookers, a group of former military aviators who meet monthly at C.J. Cannon's Restaurant at the Vero Beach Airport.
Besides his beloved wife and parents, he was preceded in death by younger sister, Janet Wardlow, and his twin sister, Catherine Cooper. He is survived by daughter Rebecca Rickey (Gary L. Embrey) of Vero Beach, sister Ruth Ellen Fulton of Cherry Fork, brother-in-law Morgan S. Ross, Jr. of Ripley, and many cherished nieces, nephews, grand and great-grand nieces and nephews in Ohio and Florida.
The visitation is from 12:30 until 2 pm on Saturday, December 30th at Lafferty Funeral Home in West Union, Ohio with the service at 2 pm Pastor Bill Kirby will officiate. Interment will follow at Decatur Cemetery near Decatur, Ohio. Memorial donations may be made to the veterans organization of your choice.