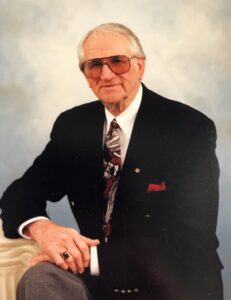 Charles S. Kirker, Jr.
August 10, 1922 - September 15, 2021


Charles S. Kirker, Jr., age 99 of West Union, Ohio, passed away peacefully at home on September 15, 2021 with his children at his side. He was born August 10, 1922 to parents Charles S. Kirker, Sr. and Isadora Kirker (Bissinger). He was the Great-Great Grandson of Ohio Governor Thomas Kirker and the fifth generation to reside and manage his homestead. Kirk married Jean (Hawk) on December 4, 1948, and they were married for 71.5 years until her passing in 2020. They enjoyed dancing to their favorite song "Stardust".

Serving as a combat medic during WWII (October 1942 - December 1945), Kirk was proud of his Army service, and continued his participation in the VFW and American Legion. He also attended each Memorial Day service at the Kirker Cemetery until just the past couple of years.

Kirk enjoyed many family and community activities and was active with the West Union First Presbyterian Church from age 12 in 1934. He was an active farmer his entire life, spending many hours in the fields of Kirkwood Farms, as well as being a continual member of the National Shorthorn Association, Ohio Farm Bureau, and the Bentonville Anti-Horse Thief Association. He enjoyed playing golf and served as president of the Adams County Country Club. He and Jean enjoyed attending REDS games and watching the OSU Buckeyes. Kirk formed and coached for many years the Liberty Little League team.

He was preceded in death by his brother Harold, sisters Eleanor (Kirker) Spears, and Juliaette (Kirker) Rupert, wife Jean, and their son, Charles S. Kirker III (Chip). He is survived by daughter Jan, and son Tom (wife Janie). He is also survived by his grandchildren: Adam Kirker, Amy White (husband Jed), Aaron Kirker (wife Danielle) and Karli Moebius (husband Alex); great-grandchildren: Sara, Mason and Max White, Ella and Brooks Kirker; and many nieces, nephews and friends.

Charles Kirker would tell others, "I've had a good life, a good family and good friends!"

Lafferty Funeral Home is assisting the family with services, which will be held at a later date due to COVID-19. Any memorial donations can be made in Kirk's name to the West Union First Presbyterian Church: 110 S 2nd St, West Union, OH 45693.
Condolences
Phil and Vicki Rhonemus - Oct 1, 2021
Dear Tom, Janie, Jan, and All Kirker Family, Keeping all of you in our thought and prayers at this time. Always enjoyed talking to Junior. He bent over backwards to get us loans through Jackson Production Credit Association to go to college. He also gave Phil operating loans for his first few crops as a farmer. Will miss him. He always called me "Filbert"! He will be missed. Sincerely,
Robin Lucas - Sep 25, 2021
Kirk loved to have fun and talk with all he met and knew. He always treated people with respect. How he and Jean survived all of the kids in their home and on the hill sledding through the years, was a miracle. He was truly a very special man. The family is in my heart and prayers.
Nancy and David Hook - Sep 24, 2021
Very sorry to hear. Our heartfelt sympathy to all the family.
Don & Sarilee Williams - Sep 24, 2021
So sorry for your loss. Jr was always so friendly, very nice man. Prayers for comfort in memories.
Joy Miller-Fite - Sep 22, 2021
To The Kirker Family, Our deepest sympathy.
Rick and Belinda Sininger - Sep 20, 2021
We hope the family's treasured memories will bring comfort day by day. Remembering all of you in prayer during this difficult time.
Vic Bowman - Sep 20, 2021
Very saddened to learn of the passing of longtime family friend, Charles (Junior) Kicker. A friend to all who knew him and a loving family man. Our condolences to Tom, Janie, Jan and all of the grandchildren. A life well lived. 💔🕊
Esta Clyta Deborah Carter - Sep 20, 2021
So sorry for your loss.
Bev Blake - Sep 19, 2021
Tom, Janie and Jan, So sorry to hear of the passing of your dad. Forever etched in my mind is his image, always with that great smile. I have so many fond memories of Junior and your family during my years growing up in Adams County. My thoughts and prayers are with you and your family. Bev Blake
Kay Cook - Sep 18, 2021
Tom, Janie, Jan, Our thoughts and prayers are with you with the loss of your father. Kirk was a wonderful man who was always willing to help others. May it give you comfort knowing he is with our Heavenly Father.
Dan & Susan Haslam - Sep 18, 2021
Tom, Janie, & Jan you have our deepest heartfelt sympathy in the passing of your Dad. Jr. was a wonderful person always greeted everyone with a big smile and a hug. You have been in our thoughts and prayers.
Kay Holden - Sep 18, 2021
Tom and Janie, deepest condolences for your loss. Charlie was a kind soul. I enjoyed working with him on community projects.
Carmen Fite - Sep 18, 2021
Sorry for your loss.
Michael Bihl - Sep 18, 2021
My deepest condolences to the Kirker family. A great loss to our community. I was the bench warmer on that first little league "C" team. Lots of fond memories with the Kirkers.
Sharon Burriss - Sep 17, 2021
I have so missed him coming into the VA Clinic. Mr. Kirker was a sweet, kind and gentle man who taught me a lot. He and his family are wonderful people who will forever hold a special place in my heart. Go rest high on that mountain with your love. I will see you one day...love you and prayers for your children.
Kathy (Hawk) Brandt - Sep 17, 2021
I have many fond memories coming down from Columbus to Uncle Kirk and aunt Jean Kirker farm with my parents Fred & Marge (McMillan) Hawk. I remember endless hours playing with Jan, Chip & Tom that I hated to see the days end. Rest in Peace together with God, Uncle Kirk and aunt Jean. I.L.Y.,,,, Kathy (Hawk) & Barrie Brandt
Christopher Beam - Sep 17, 2021
What a life Kirk led! He was a wonderful man. My deepest sympathy to you all.
Jill Bissinger - Sep 17, 2021
Tom and Jan, my heart goes out to you! Your parents were amazing, and I have such fond memories of both. Please keep in touch 🙏♥️🙏
Anita Ann Kirker - Sep 17, 2021
I met Charlie many years ago thru his farming. Even though no relation he became a good friend and when ever I ran into him I always got a big hug from him. Was always so nice. Will be missed by many for sure. Prayers to all the family in loosing this great man.
Sandra lawyer - Sep 17, 2021
Tom, I am sorry to hear about the passing of your father. Prayers to you, Janie and your family.
Elaine and John T Lafferty - Sep 17, 2021
We will miss our dear friend, but know he wanted to be with his sweet Jeannie. We are blessed to have 60 years of happy and fun memories! We send our love to all of Kirk's family. He will never be forgotten.
Kelsey Redmon - Sep 17, 2021
I loved this man just like my grandfather. What a beautiful soul & heart he had. ❤️
Jim & Susan (Lockhart) Sandlin - Sep 17, 2021
Tom, Jan & Janie. So very sorry for your loss. He was a wonderful man. We send hugs, thoughts & prayers to all. 😥🙏❤