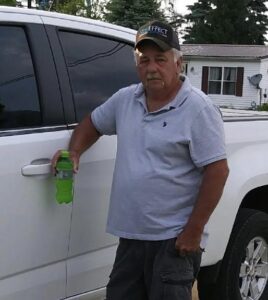 Charles Jerry DeMint
February 20, 1956 - March 7, 2023
Charles Jerry DeMint, 67, of West Union, Ohio passed away on Tuesday, March 7, 2023 at Adams County Regional Medical Center in Seaman. He was born February 20, 1956 in West Union.  He is preceded in death by parents: Lawrence and Caryl DeMint and three sisters: Cindy Lewis, Betty S. Young and Mary Ruth Kirker.

Jerry is survived by his loving wife, of 43 years, Linda DeMint of West Union; one son, Jerry Shawn & Tabby DeMint of Winchester; two granddaughters: Bayleigh DeMint and Brooklynn Tolle of Winchester; one sister, Judy Shupert of Dayton and one brother, Richard DeMint of West Union.

Jerry was a 1974 graduate of Northmont High School in Dayton. He was a member of the Teamsters Local No. 114 in Cincinnati for 30 years.

The public visitation is 6 – 7 PM Friday, March 10, 2023 at Lafferty Funeral Home Incorporated, 205 South Cherry Street, West Union, Ohio 45693.

Friends can sign online condolences at www.LaffertyFuneralHome.com

Lafferty Funeral Home Incorporated serves the family.
Condolences
Amy Wagner Sapp - Apr 3, 2023
I am so sorry to hear of the passing of Jerry. My condolences to the entire family. I will be thinking of you all. I enjoyed being around him when I saw him. Cousin, Amy Wagner
Jim and Linda Young - Mar 23, 2023
Our deepest sympathy to the family. Jerry was a great funny guy. He serviced our supermarkets with bakery products for 30 years. Always enjoyed seeing him 5 days a week. Praying for your family.
Craig Harover - Mar 17, 2023
Linda, Jerry Shawn and family, My deepest condolences for the loss of Jerry. I am sorry I missed the funeral services. Jerry was a great person with whom I always enjoyed being around. He will be dearly missed by those who had the opportunity to know him.
Vickie Fulton - Mar 12, 2023
Sending my condolences to Linda, Jerry Shawn, Tabby & the girls.
Jamie Heiser - Mar 10, 2023
Jerry Shawn, I am very sorry for Loss. We will be praying for comfort for your family. I never got to meet your father personally but listening to you talk about him I knew he was a good man. Your respect and love was apparent in you conversations.
Rebecca Hodge - Mar 9, 2023
Sorry for your loss.He was a good man
Janie lucas - Mar 9, 2023
Linda and family , I'll so sorry to learn of the passing of Jerry !! Please tell Tabby and Jerry and kids so sorry
Judy Ralston Laney - Mar 8, 2023
So sorry for your loss, thoughts and prayers to Linda jerry and family
Joy Miller -Fite - Mar 8, 2023
Linda and family, So sorry to hear of Jerry's passing. Our condolences, cousins Jo Ann Miller and Joy Miller-Fite
Rhonda McDowell - Mar 8, 2023
Linda and family, I am so very sorry to hear this about Jerry. Such a great guy. Thoughts, prayers, and hugs for all of you❤️😢🙏
Joey Juanita and Greg Wilson - Mar 8, 2023
We are so Sorry for your loss. We have so many memories of baseball games. Jerry was a wonderful poet. Prayers for comfort for you all.
Joyce Grooms - Mar 8, 2023
Linda I'm so sorry to hear the passing of Jerry. My thought and prayers for your family
John T and Elaine Lafferty - Mar 8, 2023
We are shocked and saddened to learn of Jerry's passing today. We send sincere sympathy to all of his family.
Ronnie & Jeanne Grooms - Mar 7, 2023
So sorry to hear about Jerry. Sending prayers for the family.
Greg and Sandy Grooms - Mar 7, 2023
Jerry, Bob, Jay and I played golf together for 20 years. Many great memories and I will always cherish those days for the rest of my days. He was funny, sincere and always willing to help you if needed. He will be missed by many. My thoughts and prayers for Linda, Jerry Shawn and the family. Loved him Greg and Sandy
Jay Prather - Mar 7, 2023
My fondest memories with Jerry are of playing golf in our old foursome. Our Sunday morning golf games became a contact sport! I don't believe I have ever laughed any harder! Jerry was one of a kind. My thoughts and prayers are with Linda, Jerry Shawn, and family.