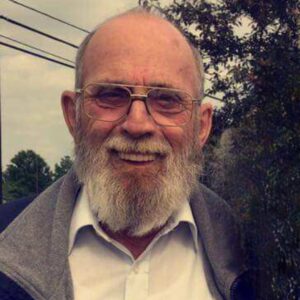 Charles E. "Chuck" King
September 10, 1948 - July 13, 2023
Charles E. "Chuck" King, 74, of West Union, Ohio passed away on Thursday, July 13, 2023 at the VA Medical Center in Cincinnati. He was born September 10, 1948 in Princeton, New Jersey. He is preceded in death by parents: Harold Leland and Emily Mae (Hillborn) King; one daughter, Angel Cook; two brothers: Harold and George King and two sisters: Doree (Robert) Modzianowski and Rudy King.

Chuck is survived by his loving wife, Susan King of West Union; two sons: Larry (Andrea) Cook, Jr. of Marshall, Michigan and Randell (Deana) Cook of Louisville, Kentucky; one daughter, Cassandra "Casey" (Steven) Neal of Springfield, Kentucky; twelve grandchildren: Chelsea (Rocky) Wray, Randy (Kelsey) Cook, Jr., Jenny Neal, Zach (Odessey) Neal, Ryan Cook, Nick Neal, Cameron (Elizabeth) Cook, Erin Neal, Alexandria Cook, Ethan Murphy, Emily Cook, and Alyssa Cook; eight great-grandchildren: Kylie Knott, Jackson Wray, Lucas Wray, Caleb Wray, Genevieve Cook, Anna Wray, Ona'leigh Neal, and Jordan Rivers; two sisters: Amanda (Charlie) Raynor of New Jersey and Mary Ann Gaug of New Jersey; one brother: Andrew (Florence) Gaug of New Jersey and many friends and others that called him Grandpop Ohio.

Chuck served his country proud, in the U.S. Army.  He is a retired veteran, serving for over 20 years and traveling the world.  Since retirement, he enjoyed life in Adams County. He loved his family and friends dearly.  He will be missed by all who knew him.

In Lieu of flowers, memorial contributions may be made to:

Fisher House – Cincinnati VA Medical Center

3200 Vine Street, Cincinnati, Ohio 45220

513-475-6571

or

Active Heroes Incorporated

1022 Ridgeview Drive, Shepherdsville, Kentucky 40165

Activeheroes.org



Mr. King will be cremated.  A memorial service will be held 2 - 4 pm, Saturday, August 12, 2023 at Lafferty Funeral Home Incorporated, 205 South Cherry Street, West Union, Ohio 45693.

Friends can sign online condolences at www.LaffertyFuneralHome.com

Lafferty Funeral Home Incorporated serves the family.
Condolences
Phil and Vicki Rhonemus - Aug 7, 2023
Dear King Family, Sorry to hear of Chuck's passing. I will miss our conversations as we crossed paths around West Union, especially UDF. Keeping all of you in our thoughts and prayers. Sincerely,
Joyce Drake - Jul 15, 2023
Sue and family -your husband, Dad and Grandpop … ya'll are in my thoughts and prayers. He's been my brother since 1992, I'll never ever forget his heart of gold and all he's done for my family, he's one of a kind, HUGS 💔
Mary Jane Campbell - Jul 15, 2023
I am so sorry for your loss. I will miss laughing with him. Prayers and hugs!
Virginia Staples - Jul 15, 2023
Susan, Randy, Larry, Casey and spouses and kids, I'm truly sorry to hear of Chuck's passing. He was a good man. I always enjoyed seeing him. May he rest in peace. His memory will live on forever in your hearts and in the hearts of his grandchildren. Please know I'm sending prayers for all of you at this most difficult time.
Clema - Jul 15, 2023
Mom Ohio sorry for your loss.we will miss Dad Ohio very much.he will always be in are hearts 💗 love clema and Tommie
andrew - Jul 15, 2023
sorry for your loss Susan, I want to thank you for taking car of my brother thru out the yrs of of your marriage.... to my Brother, I will miss you forever.... Thank You for your service to our nation. God bless all of you