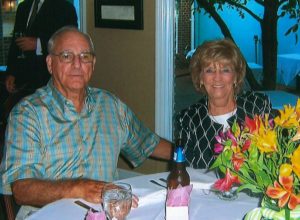 Charles "Chase" Walter Prather
February 19, 1928 - October 2, 2019
Charles "Chase" Walter Prather of West Union, Ohio departed this life on Wednesday, October 2, 2019.  Chase was born on February 19, 1928 to the late Charles Thomas and Ala (Potts) Prather. He was the youngest and only son of six children. Chase is preceded in death by his wife, Betty (Gates) Prather, his five sisters, Mary Lou, Helen, Margaret, Grace, and Betty, his granddaughter Mandy McDowell and great-granddaughter Kylie Lucas.

Chase is survived by four children, Rhonda (Dr. John "Sparky") McDowell, Robin (Charlie) Lucas, Jay (Leah) Prather, and Amber (Patrick) Dubbs. He also leaves behind his sister, Kay (Pete) Battison, seven grandchildren, two step-grandchildren and eleven great-grandchildren.

Chase lived a blessed life. He loved his family, church and community. He was truly a "people person." He also had a passion for fishing and hunting that he passed on to his son, grandson and great-grandson.  As a boy, Chase delivered newspapers before he went to school, he cleaned out chicken coops and did whatever he could to make a penny.

Chase graduated from West Union High School in 1945. He began his career working for the Kroger Company at 16 years of age. He soon became a manager of the Ripley Kroger and the West Union Store. ln 1957, Chase opened his own business, Prather's lGA, where the present Southern Hills Community Bank resides. In 1962 he moved the IGA to the old Archie Meadows Car Dealership building where the business was patronized by many. The store burned to the ground in1979. He did not let this keep him down for long. He rebuilt the building in 1980 making it bigger and modernized for its time. He truly loved being in the store and greeting people as they came in. Chase retired in 2007 but was still an icon of the store.

His big heart was always open to helping others in need. He gave support to many churches, the Junior and Senior Fair boards, Beef BBQ" and animal organizations, Shriners Hospital, the Pork and Beef Producers of Adams County, and many other organizations throughout southern Ohio but these are just to mention a few.

Chase loved people in general but children especially warmed his heart. lt gave him great pleasure to hand a dollar bill to a child and see the joy and excitement come over them. His generosity and love touched many people from the community.

Chase was a member of The Shriners, Masons, Scottish Rites, Eastern Star, First Presbyterian Church of West, Lions Club, and several other organizations in his lifetime.

Memorials may be made to the First Presbyterian Church of West Union 110 S. 2nd Street, West Union, Ohio, Hospice of Hope 909 Kenton Station Dr., Maysville, KY 41056 or the Adams County Animal Shelter P.O. Box 245 , West Union, Ohio.

There will be no visitation and private services will be held by the family.
Condolences
Phillip and Vicki Rhonemus - Oct 15, 2019
Dear Prather Families, Continuing to keep each of you in our thoughts and prayers at this time. Chase was always willing to have conversation on a variety of topics with us. In my younger days when many of us collected pop bottles to help fund our way to 4-H camp, he didn't care how many we brought in and usually gave a little more than the deposit! We will miss his friendliness. Sincerely,
Joy Miller-Fite and Jo Ann Miller - Oct 9, 2019
Chase Prather was truly a great human being. The West Union community and Adams County area was blessed to have Chase as one of their own. With our sympathy, Jo Ann Miller and Mark and Joy Miller-Fite
Ben and Sally Games - Oct 5, 2019
Chase was a good friend and mentor throughout the years. Our sincerest sympathy to his family.
Dan Little - Oct 4, 2019
I was very fortunate to work for a truly kind man like Chase.
John T. And Elaine Lafferty - Oct 4, 2019
Our family sends sincere sympathy to Chase's family. Chase leaves quite a legacy in our community. We hope your memories of your dad will be a comfort to you through the years.
Dan & Susan Haslam - Oct 3, 2019
Robin & family, Chas was a wonderful loving, giving, and a great hearted man to our community. He touched the lives of many in his years on this earth. What a legacy he left. You have our deepest heartfelt sympathy .
Roy Hill - Oct 3, 2019
A very kind and generous man who will be missed by many . Condolences to the family.
Brenda Nehus - Oct 3, 2019
So sorry for your loss, Chase was a kind hearted guy who we will miss very much.
Dena Morris - Oct 2, 2019
What a special, beloved, generous human being . . . he is most certainly resting peacefully.
Don Young - Oct 2, 2019
Chase was a great man he was so good to my sister Rhonda kaye and her children.he was a great figure in our community.my condolences to his family
Charlie & Bettie Grooms - Oct 2, 2019
So sorry. Chase was a great friend to everyone.