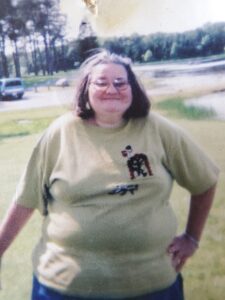 Cathalena Lin Steward
May 29, 1959 - August 16, 2020
Cathalena Lin Steward, 61, of Catbird in Monroe Township in Adams County, Ohio, died Sunday, August 16, 2020 at University Hospital in Cincinnati.  She was born May 29, 1959 at the Adams County Hospital in West Union. She was preceded by her father, Albert W. Steward.

Cathy is survived by mother, Frances L. Steward; three brothers: Billy Steward of Manchester, Derry Steward of Manchester and Paul Steward of Aberdeen; two sisters: Mary Donahue of West Union and Tammy Evans of Blue Creek and many nieces and nephews and several friends that will love and miss her very much.

She was a 1978 graduate of West Union High School. She was a good person and a great poem writer.  She went to church, enjoyed her animals and had the biggest heart, she loved everybody.

In lieu of flowers, memorial donations can be made to:

Lafferty Funeral Home Incorporated, P.O. Box 5, West Union, Ohio 45693.

The public visitation is 12 – 2 pm Friday, August 28, 2020 at Lafferty Funeral Home 205 S. Cherry Street, West Union.

The public funeral is at 2 pm Friday, August 28, 2020.

Pastor Vernon Shively will officiate.

Lafferty Funeral Home Incorporated serves the family.


Condolences
Tanya Donahue - Aug 27, 2020
To all of you from all of us we love you and so sorry that you have lost another family member Cathy was one of the sweetest people I ever meet and will be missed dearly but just like Albert never forgot but she is in a place where we never have to worry about her again she is happy looking down on us all love you all sorry I can not be there love Tanya.
John T and Elaine Lafferty - Aug 27, 2020
To Francis and family, We are so sorry to learn of Cathy's passing. You have our sincere sympathy, John T. and Elaine