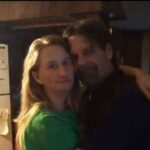 Brian Alan Marcusen
August 23, 1968 - June 16, 2023
Brian Alan Marcusen, 54, of West Union, Ohio passed away peacefully on Friday, June 16, 2023 at home with his wife by his side. He was born August 23, 1968 in Menominee, Michigan.  He is preceded in death by his parents: Oscar Alan and Linda Kay (Anderson) Marcusen; and one sister, Amy Jo Marcusen.

Brian is survived by his devoted wife, Kristina (Grooms) Marcusen of West Union; four children: Jeffrey (Bri Williams) Reilly of Lynx; Kristina (Phillip Picklesimmer) Reilly of West Union; Richard Reilly of West Union and Dustin (Courtney) Reilly Miller of West Union; sixteen grandchildren; one brother, Jamie Marcusen and one fur-baby, Peanut butter Alan Marcusen.

Brian worked at Columbus Industries in West Union for seven years, it was his second home and family.  He was a devoted family man and loved his friends as if they were family.

All services are private.

Interment is at West Union Cemetery.

Friends can sign online condolences at www.LaffertyFuneralHome.com

Lafferty Funeral Home Incorporated serves the family.
Condolences
Kristina - Jul 21, 2023
I miss you 🥺 we love you can't stand this pain. But your truck is paid off
Kristina - Jun 27, 2023
Peanut butter marcusen misses his daddy . My privacy is still being stolen I know you now baby who she is we both also know she isn't important.i have better things to do. That person won't stop until I go to Kimmy Rodgers and make another report on how she done you .I was told what she done to you was another story yes baby I promise I'll fix it I love you so much I am broken
Sharry Bennington - Jun 26, 2023
I'm so very sorry for your loss.
Kristina - Jun 26, 2023
Baby it's only been a week but I miss you so much
Mary Lou Alexejun - Jun 24, 2023
My husband Dennis was a first cousin to Brian. His mother Ada was also a sister to his mother. We were so sad to hear about Brian's passing. We have wonderful memories of him on their farm and time spent with his family. Our heartfelt sympathy to his family and prayers to lift you up during this time.
Kristina - Jun 22, 2023
I miss you more than words can say I know I'm not perfect baby but I'll always love you More than ever
Connie Taccolini - Jun 22, 2023
So sorry for your loss. Brian was my first cousin. His mom Liinds and my mom Ada were sisters.
AUDREY LINDQUIST - Jun 22, 2023
I am so sorry for your loss. Brian was my cousin. His mom Linda and my mom Marge were sisters
Kristina Marcusen - Jun 22, 2023
I miss you so much. Can't believe all this has happened to us baby .our little peanut butter misses his daddy .I'm shattered I had it all now youve completely given your sister Al your Pennie's