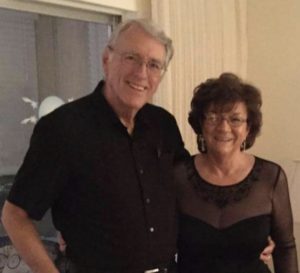 Bob Eubanks
March 22, 1943 - October 6, 2018
Bob Eubanks, 75, of Batavia, Ohio in Clermont County, passed away Saturday October 6, 2018 at home. His wife, children and granddaughter were with him. Bob was born March 22, 1943, in Cincinnati, Ohio. He was preceded in death by his parents, Robert and Marie (Kuhr) Eubanks and his sister, Judy Seubert.

Bob is survived by wife, Sharon Lee (Cooper) Eubanks of Batavia; two children: Tammy M. (Doug) Grant of Bethel, Ohio  and Bob W. (Cindi) Eubanks of Bethel; sister, June Clark of Fayetteville, Ohio; eight grandchildren and 10 great grandchildren.

Bob retired from Ford Motor Company in Batavia as a Quality Control Engineer after 30 years and anchored the news show for Ford Motor Company. He was a Kentucky Colonel and was a member of the former Adams County Garden Club.

Thank you for the help from Hospice of Cincinnati in Anderson. Memorial contributions may be made to the American Diabetes Associations, 10200 Alliance Road Suite 101, Cincinnati, Ohio 45242.

Visitation is from 12 – 2 pm on Thursday, October 11, 2018 at Lafferty Funeral Home in West Union, Ohio. The funeral service is at 2 pm with Pastor David Hopkins officiating. Burial will be at Moore's Chapel Cemetery in Blue Creek, Ohio.
Condolences
Paula Brumley Johnson - Oct 11, 2018
From my childhood till now and always, Bob is a very important person in my life. That smile, that laugh, he always shined a loving light to all us kids. The entire family has a place in my heart and forever. Arcus, Dora, Karen, and I send our total and complete love to you all at this time. You are so so loved.
Emily Ortiz (Chana) - Oct 9, 2018
My deepest sympathy to you and your family ...we hold you all in our prayers...God bless you and give you comfort
Danny Stirling - Oct 8, 2018
I was very fortunate to have a friend like Bob Eubanks. His smile and voice was always so heart felt to me. Bob and I worked together for some time in Summerville, SC and became the very best of friends. So much so he introduced me to his beautiful wife Sharon and from then on it felt like family. I will miss his voice when he would end our conversations with " Danny, I hope you have the very best day ever". Bob you will remain in my heart and mind always. Your friend, Danny Stirling
Lana n Bill - Oct 8, 2018
We have lost a dear friend . . Bob n Bob are our neighbors @ The Kentucky Speedway every year. This is such a great loss. BoB sr has a spot on our scaffolding just fir him and that will remain his spot at the race. Im so sorry to his dear wife he thought the world of and Bob jr and the rest of his family.May Hod carry you all furing these trying days ahead. We love ya, Lana n Bill
Ginna Foley - Oct 8, 2018
My condolences for your loss. May God bring peace to your family. It's a time to celebrate a wonderful life, he has a great family, and for him a homecoming with Jesus.
Elaine Lafferty - Oct 8, 2018
John T. and I send our sincere sympathy to Bob's family