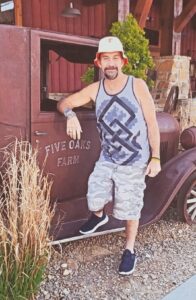 Billy Rutledge
April 24, 1972 - May 21, 2022
Billy Rutledge, age 50, of West Union, Ohio passed away May 21, 2022 at his residence.  He is preceded by father, William Allen Rutledge.

Billy is survived by wife, Lori Rutledge of West Union; mother, Janis Sue Rogers of Bethel; two sisters: Jody (Jason) Sherrill of Erlanger, Kentucky and Amy Rutledge-Banks of Mt. Healthy; two brothers: Scott (Sarah) Rutledge of West Union and Shane Rutledge of Bethel and several nieces and nephews.

Billy enjoyed drawing, woodworking and fishing.  He loved spending time with family and friends.  He will be deeply missed.

In Lieu of flowers please make memorial donations to:

Lafferty Funeral Home Incorporated

P.O. Box 5, West Union, Ohio 45693

Mr. Rutledge will be cremated.  There are no services at this time.

Lafferty Funeral Home Incorporated is serving the family.