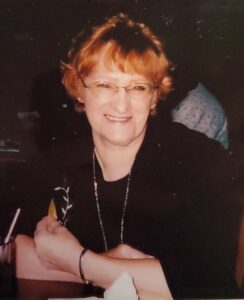 Beverly Ann (Lewis) McCorkle-Pollard
May 8, 1944 - January 10, 2021
Beverly Ann (Lewis) McCorkle-Pollard, age 76 of West Union died Sunday, January 10, 2021 at her residence in Panhandle.  Bev was born May 8, 1944 in Brush Creek Township in Adams County.  She was preceded by parents, Earl G. Lewis, Sr. and Idella (Blanton) Lewis; first husband, John E. McCorkle, Sr.; two sisters: Minnie Wyskiver and Evelyn Ralston; and three brothers: Raymond Lewis, Don Lewis and Harold Lewis.

Bev is survived by husband, John "JR" Pollard of West Union; one son, John E. McCorkle, Jr. and daughter-in-law, Beverly Ann (Sturgill) McCorkle of West Union; one grand-daughter, Abigail Breanna McCorkle of Bentonville; one sister, Trollie (Keith) Arden of Lynx; one brother, Earl G. (Gloria) Lewis, Jr. of Lynx, several nieces and nephews, many cousins and numerous friends.

Bev graduated from the former Jefferson High School in Blue Creek.  She and John McCorkle were married for 41 wonderful years.  She married JR Pollard in 2011.  She enjoyed gardening and yard sales.  She spent many days with family and friends riding around on the hunt for sales.  For a short time, she worked at the West Union Walmart with her son John.  Throughout her life she gathered an extensive collection of angels and dolls. There was nothing more important than family.  How lucky we are to have someone that makes saying goodbye so hard.

In lieu of flowers, memorial donations can be made to:                                                           Heartland Hospice Services of Portsmouth                                                                                      P.O. Box 400, Lucasville, Ohio 45648

The public visitation is 12 – 2 PM Friday, January 15, 2021 at Lafferty Funeral Home, 205 South Cherry Street, West Union, Ohio 45693.

The public funeral is 2 PM Friday, January 15, 2021 at Lafferty Funeral Home. Pastor Rick Ross will officiate.

The public interment is at East Liberty Cemetery, Tulip Run Road, Lynx, Ohio.

Lafferty Funeral Home Incorporated is serving the family.
Condolences
Teresa Countryman - Jan 16, 2021
I am so sorry for the loss of your Mom and for your sister Trolli. She was such a sweet person. Prayers for you all
Phillip and Vicki Rhonemus - Jan 15, 2021
Dear McCorkle-Pollard Families, Keeping each of you in our thoughts and prayers at this time. Sincerely,
Deanna Knauff - Jan 15, 2021
I am so sorry to hear of Beverly's passing. Sympathies to all of her family. '
Carol & Tim Daniel - Jan 13, 2021
So very sorry for your loss. Sympathy to all the family! Prayers for all that God will give you strength and comfort during this time and in time to come.
Harriet Caraway DeMint - Jan 13, 2021
So sorry to learn of Beverly's passing . Always enjoyed talking with her. Prayers for her family
Ann West - Jan 13, 2021
John, Bev and Trollie, So sorry for your loss.. Bev was such a sweet person and always so friendly.. Enjoyed talking with her in Walmart.
Julie Burris - Jan 12, 2021
Sorry for your families loss 🙏 Beverly was a sweet Lady