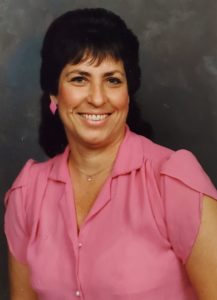 Avonelle Ruth Kinhalt
August 8, 1940 - March 25, 2020
Avonelle Ruth Kinhalt, age 79, of Rome, Ohio, died Wednesday, March 25, 2020 at U.C. Medical Center in Cincinnati. She was born August 8, 1940 in Green Township in Adams County. She was preceded in death by parents, Carey and Cora (Conrad) McGovney; husband, Marlin Kinhalt; three sisters: Zelma Copas, Hazel Grooms and Lavona Tackett; and three brothers: Scott McGovney, Dale McGovney and Roy McGovney.

Avonelle is survived by two sons: David (Brenda) Kinhalt of Stout and Rick (Lisa) Kinhalt of West Union; one sister, Pauline Spires of Scott town near Manchester; four grandchildren: Donnie, Tonya, Trina and Stacy;six great grandchildren: Danielle, Shelby, Gage, Skylar, Aubree, Eli;
one step great granddaughter, Xander; two great grandsons: Easton and Jamieson; and one niece, Wanda Harris.

She was an employee of the former Cox's I.G.A. in Manchester for ten years. She was a former valued employee of the Olde Wayside Inn in West Union.

The private visitation is Saturday, March 28, 2020 at Lafferty Funeral Home in West Union.
The funeral and interment are Sunday, March 29, 2020 at 2 PM at East Liberty Cemetery on Tulip Road at Lynx in Brush Creek Township.

Lafferty Funeral Home Incorporated of West Union is serving the family.
Condolences
Sandy verax - Mar 29, 2020
David, Brenda, Rick, Lisa, Grandkids and rest of family. Was so sorry to hear about your loss. Even though I couldn't be at the service please know you are all in my thoughts and prayers at this difficult time. I Have known avonelle since I was a kid. And she was always the same kind person. I couldn't help but notice of her and Clara Jane's passing so close.. I can remember them always walking together. And that's how I am picturing them now. Walking beside each other in heaven.
Don & Brenda Oursler - Mar 29, 2020
So very sorry for your loss, but glad for Heaven's gain. Avanell was such a kind & gentle lady. I'm sure she'll bring joy with her knowing her. Wish we could be there for you guys! So sorry David, & Ricky, & families, especially my beautiful, little cousin, I met at Nora's bday party, and my dear old friend Wanda. Our thoughts &, prayers & spirit will be there. God grant you each His Peace during this difficult time as He's the only one who truly can! Love to you all, Don & Brenda Oursler
Phillip and Vicki Rhonemus - Mar 28, 2020
Dear Kinhalt Family, Keeping all of you in our thoughts and prayers at this time. Always remember Avonelle and Marlin attending Stonewall Grange in years past. Sincerely,
Carol Moore - Mar 28, 2020
So Sorry! Prayers For All.
Verna Colvin Kellermann - Mar 28, 2020
Avonelle was one of the sweetest ladies. I love you..I will miss our visits talking about dad and your angel collection. Avonelle will always have a special place in my heart. I always called her mom and always will.fly high with the angels..love xoxo
Amanda Lewis - Mar 27, 2020
Very sorry for the loss. Avonelle was a very sweet lady. I enjoyed knowing her. The times I spent with her were always a joy.
Bill and Nora Ralston - Mar 27, 2020
To Dave and Rick, So very sorry to hear of your Mother's passing. She was such a sweet lady. A pleasure to know always had a kind word. May the great memories of her sweetness bring you comfort.
John T and Elaine Lafferty - Mar 27, 2020
We are so sorry about your mom. She was always a favorite at the Wayside years ago when Gracie and her staff were there. You have our sincere sympathy.