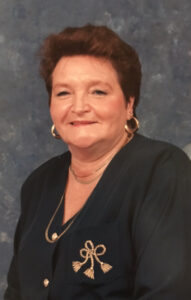 Anna Louise Albers
February 28, 1933 - September 2, 2022
Anna Louise Albers ,89, peacefully passed away September 2, 2022 in Wilmington, Ohio surrounded by her family.  She was born February 28, 1933 in Owingsville, Kentucky.  She is survived and will be missed by her sisters: Stella, Wanda & Carol; sons: Phil Goldie, Jerry (Carol) Goldie, Rick (Pat) Goldie, Bob (Diane) Goldie, Gary (Debbie) Goldie, Tim (Janet) Goldie, Jeff (Debbie) Goldie, and Doug Goldie; daughters: Debra D. Goldie and Donna (Ronald) Whitt; grandson, Ritch Williams; numerous other grandchildren, great and great-great grandchildren; and many more family and friends.

She is preceded in death by her husband, David Albers, her parents: Cecil and Ina Mae (Thompson) Copher; brothers: Claude Benton, William and James Copher; son Randall Goldie; daughter in law Darlene (Reeder) Goldie and grandson Kyle Goldie.

Louise spent her life serving her family, friends, and community members.  She loved, cared for and worried about each and every one. Having eleven children, she learned to cook for a crowd.  Family members couldn't wait to get together to enjoy a good time with good food and always requested her homemade chicken and dumplings and potato salad. For many years, Louise managed the local Frisch's restaurant in Wilmington, Ohio where the community got to know her and love her.  She was a hard worker and was always "willing to hire and give anyone a chance." She also served many elementary school children as she worked in the cafeteria at Roy E. Holmes elementary for several years.

She was a lifelong member of the Church of Jesus Christ of Latter-Day Saints where she held numerous callings and exemplified the teachings of the Savior as she served the members of the congregation.  She was always calling someone to check on them, providing a meal to someone in need or doing whatever it took to make sure other's needs were met. As Louise lived her life, she set an example of working hard, taking care of, and serving others.  She was loved by many and will be greatly missed.

The public visitation is 12-1 PM Friday, September 9, 2022 at The Church of Jesus Christ of Latter-Day Saints, 2343 Wayne Road, Wilmington, Ohio 45177

The public funeral is 1 PM Friday, September 9, 2022 at The Church of Jesus Christ of Latter-Day Saints.

The public interment is at Sugar Grove Cemetery, 297 Truesdale Street, Wilmington, Ohio 45177.

Lafferty Funeral Home Incorporated serves the family.
Condolences
Lisa Terrell - Sep 10, 2022
My sincere condolences to the Goldie and Albers families. Louise was always very kind to me and generously gave me some amazing life lessons. When I think of great women who exude tremendous strength and poise, she is and will always be at the top of that list.
Hilary osborne - Sep 10, 2022
Sending love and prayers
Florence Martin - Sep 9, 2022
Will always remember the first time attending Wilmington Ward - Sister Albers one of the members who welcomed me with a smile & quickly shared that she was also from Ky. & invited me to come visit her( we would do some porch sitting) when ever I came to Wilmington! She was so kind, happy & accepting of all she came in contact with - a blessing to all who knew her❤️❤️
Cheryl Skivers - Sep 8, 2022
My condolences and prayers to the family. She was a wonderful and sweet lady. I worked with her at Frischs for several years.
Bill Polley - Sep 7, 2022
Hate to here of her passing. I worked with her at Frischs, very friendly and loving person. I'm sure she will be missed by many.thoughts and prayers are with the family.🙏
Daniel Redden - Sep 7, 2022
I worked with Louise for several years at Frisches. She was always made work fun and was always smiling. She was a nice lady.
Judy Proto - Sep 7, 2022
Condolences for the family.
Fred reynolds - Sep 7, 2022
She was a great lady I injoyed working with her she will be missed
Mindi Bessette - Sep 6, 2022
Always kind and very funny with good stories to tell. Sending our love to all your family.
Marilyn Goldie Osborne - Sep 6, 2022
Prayers for your family
Clara Pottinger - Sep 6, 2022
Sister Albers was as down to earth as any one person could be, not concerned about getting her hands dirty while helping others. She extended her love to all who attended the branch of the church where I first got to know her. Rest in Peace, you are going to be missed by many and welcomed by many on the other side. Thank you for all you did for others including me.
Rita Goldie - Sep 6, 2022
I was Blessed to know and Love Louise. My Heart is Always with the family. Many prayers to All. She will live in our hearts forever.
Vicki Childers - Sep 5, 2022
What a beautiful person , God has a wonderful Angel now, God Bless all