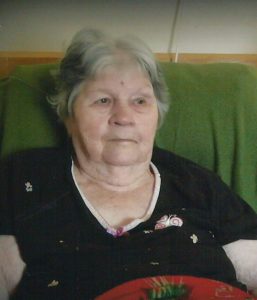 Agnes (Rothwell) Taylor
February 20, 1920 - June 15, 2018
Agnes (Rothwell) Taylor, 98, of West Union, Ohio formerly of Lynx, Ohio died Friday, June 15, 2018 the Eagle Creek Nursing Center in West Union. She was born February 20, 1920 in Lynx. She was preceded in death by her parents, Alva and Mae (Conn) Rothwell; husband, Walter Wilson Taylor; daughter, Audra Louise Taylor; four brothers, Rodney, Robert, Virgil and Don Rothwell, and son-in-law, Larry Hoop.

Agnes is survived by her children: Ronnie Taylor of Lynx, Hazel (Lawrence) McNeilan of West Union, Diana Hoop of Peebles, and Jimmy (Debbie) Hayslip of Lynx; 11 grandchildren; 12 great grandchildren; 5 great great grandchildren, and many nieces and nephews.

Agnes had worked as a housekeeper for many people.  She was a member of the Mt. Armenia Baptist Church near Lynx for more than 60 years and was also a Sunday School teacher.

The visitation is from 10 until 11 am on Monday, June 18, 2018 at the Mt. Armenia Church near Lynx.  The funeral is at 11 am.  Burial will be at the Mt. Armenia Cemetery.
Condolences
Rev. Volley W.Reed - Jun 16, 2018
Very Special Lady, and a Good Christian Person. The Family is in my Prayers.