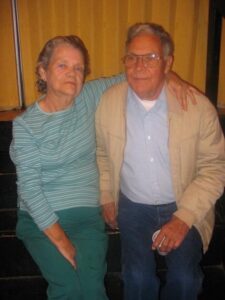 Carl Ray "Hop" and Goldie L. Grooms
April 29, 1932 - February 13, 2023
Goldie L. Grooms, 92, of West Union, Ohio passed away on Sunday, February 12, 2023 at the Adams County Manor in West Union with the love of her life by her side. She was born October 30, 1930 in Jefferson Township, Blue Creek. She is preceded in death by parents: Charles and Essie (Hodge) Clifford; one son, Jerry Grooms; three grandchildren: Shawnda Grooms, Dillion Grooms, and Jonathan Louderback; four sons-in-law: Rick Knox, Ed Hayslip, Tim Reed and Danny Mahon; one daughter-in-law, Jane Grooms; four brothers: Leroy Clifford, Eugene Clifford, Vernon Clifford and Lester "Doc" Clifford and three sisters: Louise Clifford, Helen Clifford and Leona Clifford.

Carl Ray "Hop" Grooms, 90, of West Union, passed away on Monday, February 13, 2023 at the Adams County Manor in West Union surrounded by his family. He was born April 29, 1932 in West Union. He is preceded in death by his beloved wife, Goldie Loretta Grooms; parents: Dewey and Emma (Taylor) Grooms; one son, Jerry Grooms; three sons-in-law: Rick Knox, Ed Hayslip and Danny Mahon; two brothers: Russell Grooms and Vic Grooms and five sisters: Ellen Clifford, Birdie Clifford, Vesta May Schirtzinger, Viginia Kidder and Dolly Price.

Carl and Goldie spent 72 wonderful years together.  They are survived by six loving children: Charles (Peggy) Grooms of West Union, Anna Hayslip of West Union, Charlotte Mahon of Mt. Orab, Lonnie (Carla) Grooms of Lynx, Robin Grooms of West Union and Cathy Knox of West Union; several grandchildren; many great grandchildren; Goldie's two sisters: Delcie McCoy of West Union and Brenda (Steve) Rothwell of Lynx; Carl's one sister, Ruby Shreffler as well as many nieces, nephews and friends.

Goldie retired from the 125 Grill in West Union where she worked for 25 years. She spent five years working at the Olde Wayside Inn and two years driving for Meal on Wheels.  She and "Hop" were members of Boyd Avenue Community Church in West Union.

"Hop" was employed by the Adams County Highway Department and was a machinist for the Copeland Corporation in West Union.  Hop and Goldie were devoted to their family.  They will be intensely missed.

In lieu of flowers, memorial donations can be made to:

Lafferty Funeral Home Incorporated

P.O. Box 5, West Union, Ohio 45693

or

937-544-2121

The public visitation is 4 – 6 PM Sunday, February 19, 2023 at Lafferty Funeral Home, 205 South Cherry Street, West Union, Ohio 45693.

The public funeral is 1 PM Monday, February 20, 2023 at Lafferty Funeral Home. Pastor Chester Whaley will Officiate.

The public interment is at West Union Cemetery, 9522 State Route 125, West Union, Ohio 45693.

Friends can sign online condolences at www.LaffertyFuneralHome.com

Lafferty Funeral Home Incorporated serves the family.
Condolences
Vickie fulton - Mar 12, 2023
I remember going to their house when I was a kid with my brother. I remember a warm and welcoming feeling, smiles and lots of laughs. Thanks for the good memory. What a wonderful life the two spent together, demonstrating how we all should treat each other. ❤️ R.I.P.
The smiths - Feb 19, 2023
Sorry for your loss u all be in our prayers
The Nixons - Feb 18, 2023
Two wonderful people who taught others what love and companionship is all about. Of all the years I knew them they were faithful to each other. Great Examples of people who will be truly missed. Prayers for the family.
Mary j Rothwell Williams - Feb 15, 2023
It's so heart breaking to lose such great people I know they were a great mother and and Dad ..just wanted to send my sympathy to the family I'll keep you in my prayers
Jones - Feb 15, 2023
Condolences to the family. We didn't know Goldie or Hop but we know Ruby.. We are very sorry for the family's loss.prayers to all..
John T and Elaine Lafferty - Feb 14, 2023
We send our sincere sympathy to all of the Grooms family. It must be a comfort to know that your parents are together now as they were in life.
Sherrie Wolford - Feb 14, 2023
They both were wonderful people. Their door was always open. So sorry for the family.