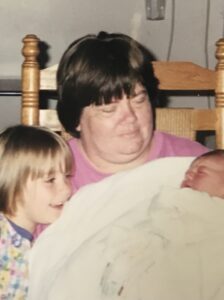 Wilma L. Miller
January 30, 1958 - May 16, 2022
Wilma Lee Miller, 64, of West Union, Ohio passed away on May 16, 2022 at the Eagle Creek Nursing Center in West Union. She was born January 30, 1958 in Port Clinton, Ohio. She is preceded by parents: Wanda Wilburn, Milford Wilburn and William "Bill" Curry; two sisters: Joyce and Mary Grooms; three nieces:  Dayna Raye Grooms, Rachel Leanne Reed and Amanda Dawn Hayslip; one brother-in-law: Jimmy Miller and one great grandchild.

Wilma is survived by husband, Robert "Bobby" Miller of West Union; three children: Pamela (Earlon) Barrett of West Union, Tony (Ladonna) Hayslip Of West Union and Mark Hayslip of West Union; seven grandchildren: Meranda (Charles) Hurd of Lynx Ohio, Madison Hayslip of West Union, Matthew Grooms of West Union, Tristan Davenport of West Union, Christopher Barrett and Kaylen Barrett of West Union, and Matthew Russel of Dayton; two brothers: Dwayne Wilburn of West Union and Adam Wilburn of Covington, Kentucky; three sisters: Marsha Grooms of West Union, Becky Hodge of West Union and Marie Anderson of Tucson, Arizona; four great grandchildren: Gabrielle Hurd, Zoey Hurd, Kyra Russel and Kiara Russell and many friends and family.

Wilma was a proud member of the Riverside Church in West Union, she enjoyed crafting in her free time as well as spending time with loved ones.  She is deeply loved and she will be missed by all who knew her.

In Lieu of flowers please make memorial donations to:

Lafferty Funeral Home Incorporated

P.O. Box 5, West Union, Ohio 45693

The public visitation is 12-1 PM Saturday, May 21, 2022 at Lafferty Funeral Home Incorporated, 205 South Cherry Street, West Union, Ohio 45693.

The public funeral is 2 PM Saturday, May 21, 2022 at the West Union Cemetery, 9522 State Route 125. Pastor Pete Francis will officiate.

Lafferty Funeral Home Incorporated serves the family.
Condolences
Nancy - May 22, 2022
Rip aunt wilma. I love you so much. I have knowed her for a long time. Aunt wilma was my bestfriend she always knowed what to say to make me smile she was the best aunt any girl could ever ask for. I'm sure going to miss ur hugs. Fly high my bestfriend I'll see u again I know.
Jerisue (Whaley) Perkins - May 21, 2022
You left a mark here on this Earth my Dear sweet Friend one I will never forget! 🥺❤️ Fly where only Angels go you are missed by all the lives you touched including mine! Dear Family, I am so sorry 🥺 my heart and prayers are with you all in this Great Loss she was always a Beautiful Soul 💗
Carry Collier - May 21, 2022
Rip Wilma. Your up there was my Granny and Pap. You was always good to me when I was at your house. Thinking of the family.
Marjorie Morgan Swearingen - May 20, 2022
Dear Family, I am sorry to hear of the loss of your loved one. I went to school with Adam at West Union, and graduated in the Class of '79. You are in my thoughts and prayers. Sincerely, Marjorie Morgan Swearingen
Ericka Barlow - May 19, 2022
Wilma will be missed so much praying for you all