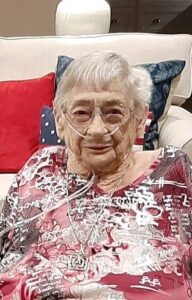 Leah Caroline Shumaker
October 7, 1933 - October 30, 2020
Leah Caroline Shumaker, daughter of the late Emma C. Ratchford and was born October 7, 1933 in Brown County, Ohio and departed this life on October 30, 2020, having lived 87 years.

She was a resident of Manchester and West Union for several years and has resided at Monarch Meadows in Seaman for the past 5 years.

On August 25, 1951 she was united in marriage to Everett P. Shumaker.  They were wed for 50 years.  She was preceded in her death by her husband Everett P. Shumaker and one daughter Rita K. Shumaker Tumbleson (Jerry).  She is survived by her daughter Lisa A. Shumaker Smith, one grandson Jeffrey W. Tumbleson (Melissa), one great grandson Joshua W. Tumberson, one great granddaughter, Miranda K. Tumbleson, one uncle Lewis L. Cox and several nieces and nephews.

She was a devoted wife, mother, grandmother, and great grandmother and will be sadly missed by her family and friends.

The public visitation is 12-2 pm, Monday November 2, 2020 at Lafferty Funeral Home 205 South Cherry Street, West Union, Ohio 45693.

The public funeral is 2 pm Monday, November 2, 2020 at Lafferty Funeral Home. Reverend Dr. David Sugarbaker officiating.

Interment is at Kirker Cemetery, State Route 136 in Liberty Township in Adams County.

Just Sleeping                                                                                                                                          Now the laborer's task is o'er;                                                                                                            Now the battle is past;                                                                                                                          Now upon the farther shore;                                                                                                                    Lands the voyager at last;                                                                                                                There the tears of earth are dried;                                                                                                          There its hidden things are clear;                                                                                                    There the work of life is tried;                                                                                                                By a juster Judge than here.                                                                                                                                            By: John Ellerton, 1875

Lafferty Funeral Home Incorporated, P.O. Box 5, West Union, Ohio 45693, is serving the family.
Condolences
Phillip and Vicki Rhonemus - Nov 9, 2020
Dear Lisa and All Shumaker Families, Keeping you in our thoughts and prayers at this time. I always remember your mother from our early time in the West Union Presbyterian Church and Sunday School. Sincerely,
Jay C. Prather - Nov 4, 2020
I have known Leah since I was a boy. I remember riding to visit Leah and Everett in Manchester with my mom and dad. Leah joined us for a birthday party for our dad at Monarch Meadows. She was a very nice lady.
Debra Tumbleson - Nov 3, 2020
So sorry to hear of Caroline's passing. I cared alot about her and Evert !
Ryan - Nov 3, 2020
Condolences to you and your family, Jeff, during this difficult time
Rhonda McDowell - Nov 2, 2020
I am so very sorry to hear about the loss of Leah. I just loved her and enjoyed going into her room to talk to her. I have known her since I was a little girl and feel like she had always been a part of our family💗
Amber Prather Dubbs - Nov 1, 2020
So sorry to hear this. Leah worked for my Dad and my parents thought so much of her. She never knew a stranger ❤️
Mary Ellen Hawley Shelton - Nov 1, 2020
Caroline was such a big part of my teenage years. I loved being around her, Rita, and Lisa. We had such good times. Sorry for your loss.
Sarilee (Brodt) Williams - Nov 1, 2020
So sorry to hear. I thought a lot of her...we had a lot of great talks at Adams County Manor and Monarch Meadows. RIP my dear friend. Thoughts and prayers for the family.